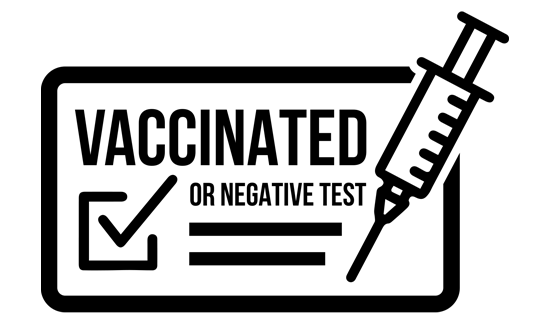 Health Attestation
By entering Oakland Arena, you agree to follow the current California Department of Public Health Guidelines for Indoor Mega Events. Specifically, you attest that you will comply with the vaccination or testing requirements detailed below for entry into the event.
All attendees of events inside the Oakland Arena from September 20 through November 1, 2021 MUST be verified as fully vaccinated against COVID-19 or have a negative COVID-19 test result within 72 hours of the event. Full vaccination occurs two weeks after the final dose of Pfizer or Moderna COVID-19 vaccines or two weeks after the single dose of the Johnson & Johnson COVID-19 vaccine. PCR and antigen tests are acceptable.
Verification of fully vaccinated status or pre-entry negative test result is required of all attendees.

All kids under the age of 12 will need to show proof of a negative COVID test within 72 hours of the event.

Self-attestation may NOT be used as a mode of verification.
Attendees may verify their vaccination status by showing their vaccination card, a photo of their vaccination card, or documentation from a healthcare provider prior to entry into the Oakland Arena. An attendee's negative COVID-19 test result may be verified by printed document from test provider or laboratory or email or text of the result from the test provider or laboratory.
Please visit the Alameda County Public Health Department (hyperlink https://covid-19.acgov.org/testing) for a list of COVID-19 testing locations in your area.
* Please check each individual show for event specific COVID-19 requirements.